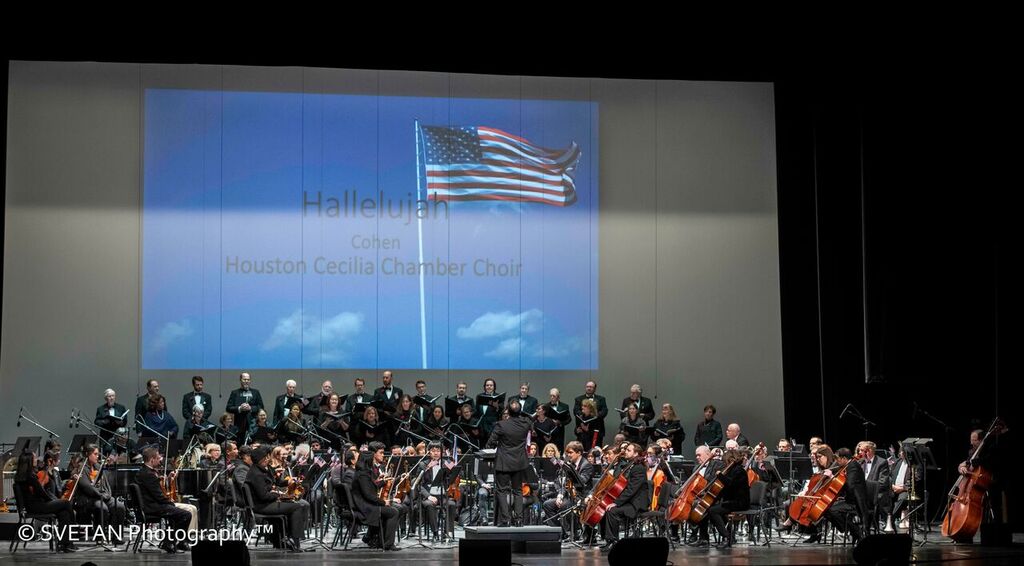 Houston Cecilia Veterans Day collaboration concert with the Texas 
Medical Center Orchestra and Choir at the Miller Outdoor Theatre 2018.
Our mission is to embrace the cultural beauty and future of choral music. Houston Cecilia seeks to engage audiences through shared experiences of sound, texture and color while actively seeking opportunities for community outreach.
Our vision is to expand within the concert repertoire that supports orchestration and unique instrumentation.
Since its beginning in 2010 under founding-director Justin Smith, Houston Cecilia has been establishing a tradition of high-quality, innovative choral performances.  In October of 2011, Houston Cecilia performed the premiere of University of Houston composer Michael Bryson's A Time and Season.  In May of 2012 the choir collaborated with VOX and the HSPVA Treble Choir in two highly-acclaimed performances of Leonard Bernstein's MASS, the first time the piece had been performed in Houston.  In May of 2014, Cecilia premiered a new choral arrangement of Triptych by Houston composer Ann Gebuhr.  Watch for continued quality programs from Houston Cecilia." Houston Cecilia continues to support local Houston composers in premiering new and invigorating choral works of the 21st century.
Contact Houston Cecilia
979-299-8124
PO Box 19398
Houston, TX 77224
For general inquiries contact: chorusmanager@houstoncecilia.org
Facebook
Happy 2019!
---